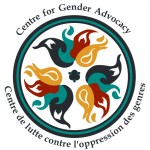 The Centre for Gender Advocacy is committed to employment equity as an ongoing process. Women, Indigenous peoples, members of racialized groups, people with disabilities, and members of other historically marginalized communities are encouraged to apply. When candidates do not differ significantly in merit, and one such candidate belongs to a historically marginalized group, Employment Equity requires that the member in this group will be selected.
About the Centre for Gender Advocacy:
The Centre for Gender Advocacy (the Centre) is an independent, student-funded, Concordia University organization, mandated to promoting gender equality and empowerment particularly as it relates to marginalized communities. This mandate is achieved through ongoing programming, campaigns, resources, services, advocacy and a commitment to accessibility.
Accessibility:
The Centre for Gender Advocacy recently underwent an accessibility audit. We are currently working on implementing the recommendations arising from the audit.
The Action Coordinator will work at the office located at 1500 de Maisonneuve W, Unit 404 (there is a second office at 2110 Mackay). There is a ramp outside leading to the front door, however most wheelchair users find it to be too steep to use (10.8% grade). Since we share the floor with a business, we have not been able to successfully create gender-neutral washrooms even temporarily during events. Space users are of course welcome to use whichever washroom they want, but we realize this is not the same as having washrooms that are actually gender-neutral.
For more accessibility information about the space, visit: http://genderadvocacy.org/accessibility/
Contract Duration: This is a one year contract with a 3-month probation period
Deadline for applications: July 31, 2017 at 5pm
Start date: August 21st, 2017
Salary: $19.27/hr for 25 hrs/week as well as 4 weeks of paid vacation and
 health benefits after the 3 month probation period.
This position is a job-share with the Action Coordinator (Programming Support) who will work 15hrs/week.
Key Responsibilities:
-Take a lead in planning and organizing the Centre's programming, beginning with the city-wide March for Missing and Murdered Indigenous Women on October 4th. Other programming may include talks, workshops, event series, and public actions.
-Check-in on a regular basis with Action Coordinator (Programming Support) to ensure the smooth operation of the Centre's programming
-Work closely with the Outreach Coordinator, volunteers and other staff to ensure that events are well promoted
-Attend all campaigns meetings and facilitate volunteer involvement. Promote forward motion within each campaign
-Coordinate volunteers to help with logistical tasks
-Organize volunteer appreciation events
Required skills and qualities:
-Able to work well both independently and collaboratively in a non-hierarchical, feminist, anti-racist environment.
-Experience with community organizing, especially relating to feminism, anti-racism and Indigenous solidarity.
-Experience with managing and working within a budget
-General computer skills and familiarity with various social media platforms.
-Excellent English writing and verbal communication skills
-Media experience
-Public speaking experience
-Self-motivated, resourceful, and organized with excellent time management skills
-Able to thrive in a fast-paced environment
-Highly organized
-An active sense of humour!
Assets:
-Familiarity with the Centre for Gender Advocacy and its priorities, principles, and activities
-Familiarity with Concordia University (including groups, people, and locations)
-Spoken and written French
-Flexibility with hours
-Ability to multi-task
-A creative mind
Read the full job description here.
*Please send a cover letter and CV, along with two references (names and contact info will do) with "Action Coordinator Application" in the subject line to: hiring@genderadvocacy.org by July 31, 2017. Cover letters can be addressed to the Hiring Committee. Only those selected for an interview will be contacted. Interviews will take place the second week of August.